Cannon Wheels, Wood Cannon Wheels,
Handmade Cannon Wheels, Made in the USA
Cannon Wheels, Wood Cannon Wheels, Cannon Wheels Handmade for Real Working Cannons. Replacement Wood Cannon Wheels and Custom Cannon Wheels, Yesterdays Wood Cannon Wheels Handmade
For over 50 years we have been making Cannon Wheels to scale for people who are serious about their cannon projects. All of our Cannon Wheels are handmade from the finest select hickory wood, scaled to size with four band hubs and dished for real working cannons.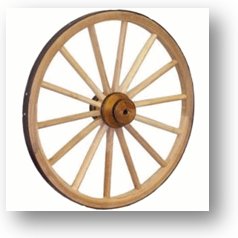 We build real working Cannon Wheels and Replacement Cannon Wheels in the following stock sizes, 15", 20, 24", 30", 36", 42", 50", and 57". We also build Custom Cannon Wheels to fit any size requirements, need, or project. For custom Cannon Wheels quotes, in Archibald metal hub as well as wood hub cannon wheels please contact us. We build Cannon Wheels basically the same way Cannon Wheels have been made for the past 200 years, each wheels is quality handmade and crafted by quality craftsmen with years of experienced wheelwrights.

Cannon Wheels For Sale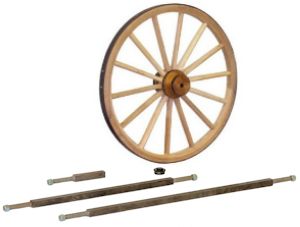 We can custom build any size or type of axle to custom fit your cannon wheels and your project. No matter what size cannon wheel or axle you need for your project, we can make your axles for you.
Our metal axles are made from solid square solid steel stock, machined on each end to match the wheel, the ends are threaded and shipped with nuts for the ends. For Axle Pricing, Please Contact Us..