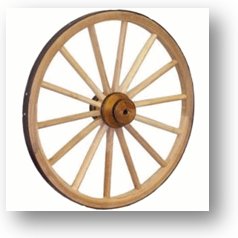 Cannon Wheels, Wood Cannon Wheels, Cannon Wheels Handmade for Real Working Cannons. Replacement Wood Cannon Wheels and Custom Cannon Wheels, Yesterday's Wood Cannon Wheels Handmade Today.
For almost 50 years we have been making Cannon Wheels to scale for people who are serious about cannons. All of our Cannon Wheels are handmade from the finest select hickory wood, scaled to size with four band hubs and dished for real working cannons.
We build real working Cannon Wheels and Replacement Cannon Wheels in the following stock sizes, 15", 20, 24", 30", 36", 42", 50", and 57". We also build Custom Cannon Wheels to fit any size requirements, need, or project. For custom Cannon Wheels quotes, in Archibald metal hub as well as wood hub cannon wheels please contact us. We build Cannon Wheels basically the same way Cannon Wheels have been made for the past 200 years, each wheels is quality handmade and crafted by quality craftsmen with years of experienced wheelwrights.
Cannon Axles, Custom Built

We can custom build any size or type of axle to custom fit your wheels and your project. No matter what size wheel or axle you need for your project, we can make your axles for you.

Our metal axles are made from solid square solid steel stock, machined on each end to match the wheel, the ends are threaded and shipped with nuts for the ends. For Axle Pricing, Please Contact Us..
Cannon Axles and Custom Cannon Wheels:
We can make custom Cannon Wheels up to 14 feet for most any project, for cannon axles and custom cannon wheel prices please Contact Us. Custom orders can require up to 6 - 8 weeks..
SHIPPING:
We double check each order for the lowest shipping rate before we ship your order, if we find a lower shipping rate your Credit Card will be refunded the difference.
We ship orders as soon as the order is completed, however, please allow 14-21 days for delivery of Custom Cannon Wheel orders. If you need faster delivery, please contact us we will try to accommodate your request.
Contact Us For Shipping Discounts On Four Or More Items.
Below are some of the products you will find at our online store, click on an item for more information. Visit our online store to view our complete line of products. To visit our store,

Click Here!
We custom make everything that we sell, with the exception of a few items that are made by Amish craftsmen. I have found that the quality of the items that the Amish make for us more than meet our quality standards. The products that are made by the Amish also help the Amish community supplement their farm income.
Cannon Wheels, Wood Cannon Wheels, Cannon Wheels Handmade for Real Working Cannon Wheels For Real Working Cannons. Replacement Wood Cannon Wheels Handmade to Scale. Yesterdays Wood Cannon Wheels Handmade Today. Enjoy your visit to our site. Should you have questions concerning any of our services or products, please Contact Us.